Hi, readers! Today I have a post for Rich in Variety's blog tour for The Melody of You and Me by M. Hollis. I have been following the author, Maria, for a while now on Twitter and when I saw that you could sign up to be a part of this blog tour, I just knew I had to do it. When I first read the synopsis for The Melody of You and Me I thought this book sounded great and now that I have read it, I can tell you this. I was wrong, it was better than great, it was amazing! You can read my review below and also see a playlist for this book.
About the Book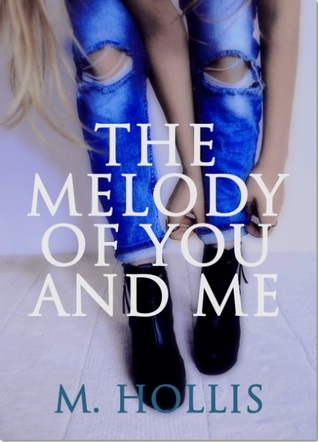 Author: M. Hollis
Publisher: Self-Published
Publication Date: September 29, 2016
Genre(s): New Adult, Contemporary, Romance, LGBT+
Page Number: 82
After dropping out of university and breaking up with her girlfriend of three years, Chris Morrison's life is now a mind-numbing mess. She doubts that working at the small neighborhood bookstore is going to change that. The rest of her time is spent mostly playing guitar and ignoring the many messages her mother keeps sending her about going back to college.
But one day, an adorable and charming new bookseller waltzes her way into Chris's life. Josie Navarro is sweet, flirty, and she always has a new book in her hands. The two girls start a fast friendship that, for Chris, holds the promise of something more. But is she reading too much into this or is it possible that Josie feels the same way?
I can't imagine a universe where The Melody of You and Me doesn't get all the 5 planets (or as mundane people call it, stars) in the world, just for being absolutely fantastic. This story blew me away, in the best way possible. It's funny, it's cute and it explores so many topics that so many people just like to ignore instead of face head-on. The Melody of You and Me is about two girls, Chris and Josie, who fall in love over time spent working together in a bookstore. Their story will make your heart swell with love and will have you flailing in your bed, making weird facial expressions, from fangirling over how amazingly cute it is. Don't doubt this for a single second, that's just the way it is.